4.XMW/5.XMW Platform WTGS
Customizable For All Needs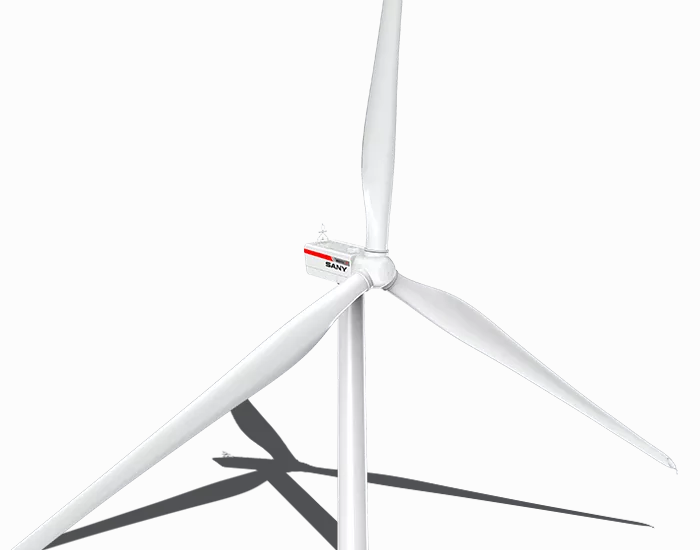 Features
4.X/5.X Platform WTGS
4.XMW/5.XMW series with the rated output from 4.2 MW to 5.0 MW features an increased rotor diameter and hub height up to 168 m and 140 m respectively.
Jointly developed by Sany Heavy Energy and Sany European Research Institute, this series focuses on the medium & high wind speed area in the parity market. Suitable for different topography and climate requirements.
Light
Low loading and iterative optimization design technology effectively reduce the loading and weight of the wind turbine. The weight of all 4.XWM/5.XWM products is comparably lighter(no more than 140 tons including the transformer). Modular design makes separate transport and hoisting possible, thus greatly saving the hoisting and crane leasing costs.
Economical
The scheme of transformer up-positioning saves the cable cost from the ordinary box-type substation to the converter and the construction of the box-type substation on the ground is no need. This helps reduce the land acquisition cost and effectively decrease line loss, shorten the construction and maintenance period, thus reducing the comprehensive cost of the wind field.
Safe
Digital twins technology and experiments for both components and whole machine can help avoid various failure modes through design, which significantly improves reliability. It will improve the utilization rate and generation time of wind turbine equipment, and create higher profits for customers.
Intelligent
Power generation, operation and maintenance level of wind turbines are greatly improved through self-developed smart wind field technology, which will increase electricity generation income and reduce operation and maintenance costs.