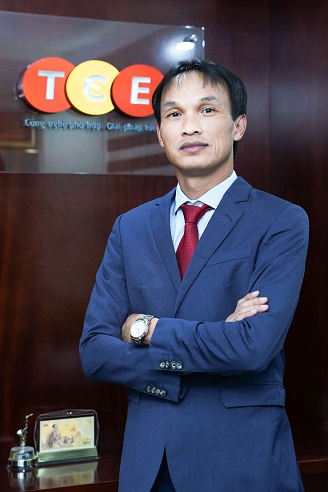 Message from CEO
Dear valued customers,
With several years of serving and sticking in the market, we have had the opportunity to go along with the success of many customers. We understand that our mission is to always give outstanding value to meet the needs of all customers. The genuine equipments, produced by the famous and prestiged brand in the worldwide together with the perfect service system are always studied and given "Perfect Technology-Optimal solution" to the customers by our company. Throughout the course of our business, with the motto "All for customers' satisfaction", the trust and success of the customers is our whole goal. TCE always strive and commit to bring the highest quality products and services with international standard and competitive price which are suitable with all needs of customers. Through the achieved successes with the trust of customers, we believe that the products and services provided by TCE will always be the first choice to bring the best solution for the customers.
We wish you success and prosperity!
Respectfully,
General Director
Field of activity
We have always been thriving for the absolute trust & satisfaction of the customers when choosing TCE. Choosing our full – packaged products and services is the right choice because "Customers' success is our success".

SALE OFMACHINES & CONSTRUCTION EQUIPMENT
Selling construction machinery & equipment - Authorized distributor of crawler cranes, mobile cranes, pilling machinery, concrete machinery, road machinery and other products of SANY group.

RENTAL OF MACHINES & CONSTRUCTION EQUIPMENT
Construction machinery & equipment rental including wind power installation equipment such as crawler cranes, mobile cranes individual rental and project renting with unlimited number of equipment, diversified types, stable quality and reasonable price.
GENERAL SERVICES
Providing complete and comprehensive services - Construction solutions, investment consultancy, consultancy on efficient use of equipment, maintenance of machinery, supply genuine parts and financial support (5S).
THE PROCESS OF FORMATION AND DEVELOPMENT
string(4) "2010"

2010

TCE signed to officially become the authorized dealer of SANY in Vietnam.

string(4) "2012"

2012

TCE was awarded SANY Authorized Dealer with the best service in Asia Pacific.

string(4) "2013"

2013

TCE honored to be the authorized dealer for 03 product lines of SANY in Vietnam: Crawler crane, mobile crane, Rotary drilling rig.

string(4) "2015"

2015

TCE honored to achieved Silver Award of "Excellent Performance" in the Annual Evaluation of SANY Group.

string(4) "2019"

2019

TCE signs the dealer Agreement for SANY group's Concrete & Road Machine in Vietnam.

string(4) "2020"

2020

Celebrate 10 years of establishment of TCE and signed a record contract to supply wind power construction equipment with Trungnam group.

string(4) "2021"

2021

TCE distributes SANY wind turbines, this is also the year that company has outstanding growth in all aspects