Over 62m Truck-mounted Concrete Pump
Deliver even farther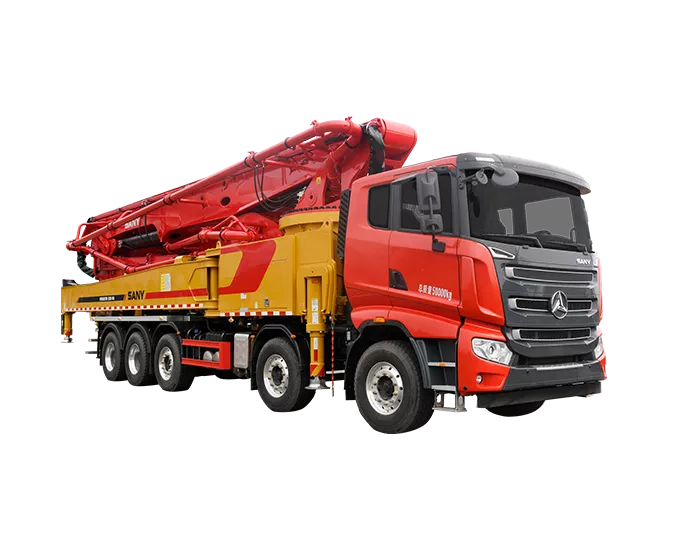 Features
One-button Technology (for 53m and above TMCP)
One-button fixed boom position function quickly dampens any boom movement resulting from repositioning the boom. This allows precise positioning of the end hose.
Boom Anti-Vibration Technology (for 53m and above TMCP)
The boom anti vibration technology reduces vibration during pumping by 50% allowing less movement and greater control of the end hose.
Energy-saving Technology
When system pressure reaches 12Mpa:No. of stroke reaches 29t/Min. Pump efficiency increases 25%(Max). Diesel consumption decreases 10%.
Anti Overswing Technology
To use top rotation brake technology to control the amplitude of Boom on swing, the boom's overswing amplitude is reduced by 60%.
Longer Life Time Wearing Parts
Delivery pipe
Discharge port/transition bushing
Concrete piston
Wear plate/cutting ring
Delivery cylinder
Self-diagnosis Technology
Continually monitors more than 200 aspects of the system during operation. Faults are displayed on the monitor. Review of the detected faults can reduce troubleshooting time by 70%.
Smart Boom System (for 53m and above TMCP)
One button boom extend/retract
Operator programmable height limit
Coordinated section operation
Safety Protection Technology
Overload protection for boom cylinders
Agitator safety switch off
Boom interference preventing technology
Specs & Compare
| | | | | | |
| --- | --- | --- | --- | --- | --- |
| Models | Vertical Reach | Output | Pressure | Engine type | More Information |
| | 61.1m | 200m³/h | 8.3 – 12MPa | D125C5-490E0 | Tải Catalogue |
| | 61.1m | 200m³/h | 8.3 – 12MPa | OM470LA.5-54 | Tải Catalogue |
| | 64.1m | 200m³/h | 8.3 – 12MPa | P11C-WE | Tải Catalogue |