W Rotary Drilling Rig
Durable and reliable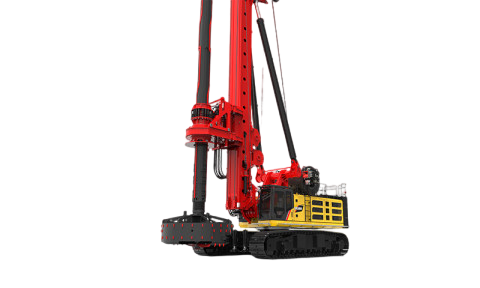 Features
High efficiency
Large core parameters such as high torque and crowd force; fast line speed of main rope to ensure high drilling efficiency in hard soil layer; it is suitable for overpass, high-speed rail, large buildings and other large hole foundation fields.
Full stroke crowd
Adopt winch crowd system with long stroke, fast crowding, rotary drive display function, suitable for all casing construction in beach, pebble and backfill formation.
Economy and energy saving
Power optimization control technology is adopted to distribute power in real time with smooth and fast response of composite action; moreover, it has high fuel efficiency and low comprehensive fuel consumption.
Step drum
Adopt step drum structure with single layer to realize no crushing, no wear, and increase the service life of wire rope by 35%.
Intelligent upgrade
HD touch screen, 3ms refresh frequency, smooth animation display.
Convenience
The rotary drive key bar is exposed for easy service and replacement; the main winching wire rope is fixed by wedge, which is easy to disassemble and assemble. Some lubrication point are exposed for easy service.