STG Series Motor Grader
Economical Choice For Best Quality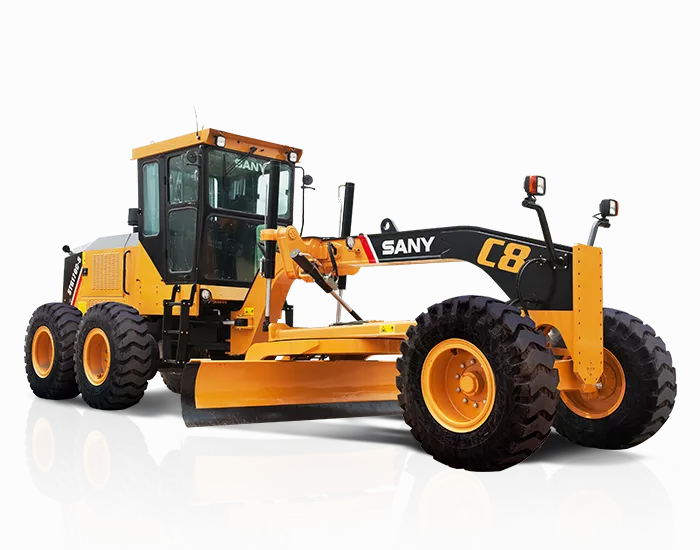 Features
Powerful Engine With High Efficiency
WEICHAI/SANY high-power and heavy-load engine is strong and powerful.
VHP technology can adapt to different work conditions, such as light load, middle load and heavy load, with different power curves, so that the machine can always work within the minimum fuel consumption range.
Reliable Rear Axle & Work Implements Of Rotary Bearing Structure
Work implements adopt fully-sealed rotary bearing structure, which provides easy maintenance, high operation accuracy, low cost, and service life longer than 10000h.
Rear axle adopts rotary bearing structure instead of conventional copper sleeve structure, which provides easy maintenance, high operation accuracy and service life longer than 10000h.
4-front and 2-rear disc-type brake is safer than drum brake with less braking distance and maintenance cost.
Easy and Convenient Maintenance
High-end SYCD liquid crystal display has operation instructions in multiple languages.
Engine hood with wide opening provides large maintenance space and is easy to access for daily maintenance.
Centralized arrangement of common electrical elements is more convenient for inspection and maintenance.
Automatic fault diagnosis and maintenance tips, automatic monitoring of work conditions of engine and transmission.
Fuel tank of super-large capacity is located at the rear of frame, which is convenient for fuel filling.
Various filter elements and wearing parts, as well as 27 high-quality maintenance tools are provided along with the machine.
Safe and Comfortable Ride & Operation Experience
ROPS/FOPS safe cab is equipped with high-grade interior, air conditioner with cooling and heating functions, fan, radio, sound system, cup holder, and cigar lighter (the same as USB interface in car).
It also has horizontal sliding window, sun visors, curtains, radio, double rear view mirrors, and mechanical suspension seat with head rest.
With LED lamps arranged at multiple positions, the operator has better vision at night.