C8 Series Asphalt Station
Precise, Effective And Eco-Friendly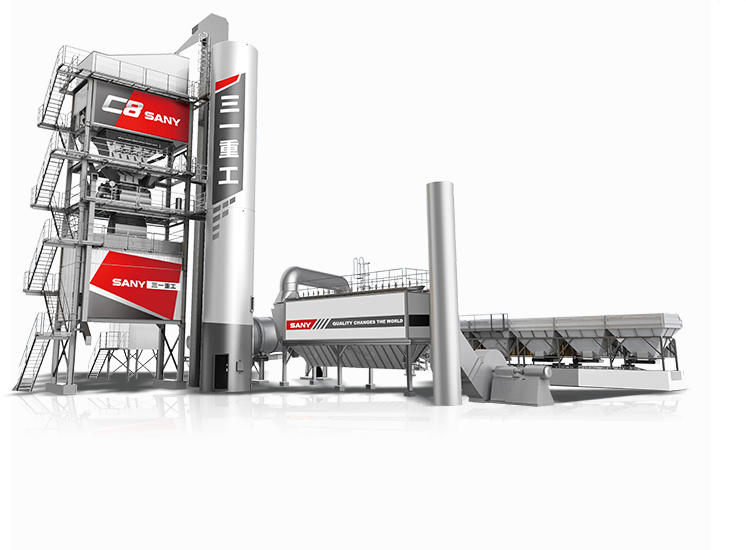 Features
Eco-friendly
Exhaust emission concentration is ≤20 mg/Nm3, ringelmann blackness ≤Grade 1, ambient noise ≤85 dB(70 dB in the control room).
Precise Measurement
The plant is a gravity flow operation, using control and measurement technology that can maintain asphalt mix accuracy of ±1.0%.
Component measurement accuracy is also ±1.0%.
Double-door aggregate measurement structure with automatic drop correction results in a process accuracy of ±1.5%.
Accuracy of bitumen aggregate ratio is ≤±0.1%.
Energy Saving
Optimized power usage reduces energy consumption.
Heat exchange rate of the drying drum is ≥85%.
The frequency conversion and constant pressure control technologies used in the burner result in a bitumen savings of 10% per batch.
Rapid asphalt heating technology results in the heating preparation time being shortened by about 1 hour.
Efficiency
15% capacity redundancy design.
Specially designed mixing body with a mixing efficiency increase of 10%.
Screening efficiency ≥90%.
Safe & Reliable
A mechanical safety device is installed in the access door of every key part for greater protection and security.
Dual computer redundancy design for the control system provides greater reliability in operating performance.
Compact Structure
Minimal facility footprint.
Space saving, compact construction.
Easy Maintaining
Network data sharing and GPS remote fault diagnostic system.
Specs & Compare
| | | | | |
| --- | --- | --- | --- | --- |
| Models | Rated Productivity | Rated Mixing Capacity | Fuel costs | More Information |
| SLB1000X8 | 80 t/h | 1.25t | 5,5kg/t | Catalogue |
| SLB1500X8 | 120 t/h | 1.6t | 5,5kg/t | Catalogue |
| SLB2000C8 | 160 t/h | 2.25t | 5,5kg/t | Catalogue |
| SLB3000C8 | 260 t/h | 3.5t | 5,5kg/t | Catalogue |
| SLB4000C8 | 300 t/h | 4.5t | 5,5kg/t | Catalogue |
| SHR120C8 | 120 t/h | 1.6 tấn/mẻ | 5,5kg/tấn | Catalogue |
| SHR160C8 | 160 t/h | 2.25 tấn/mẻ | 5,5kg/tấn | Catalogue |