15m³ Truck Mixer
Ready For Any Working Condition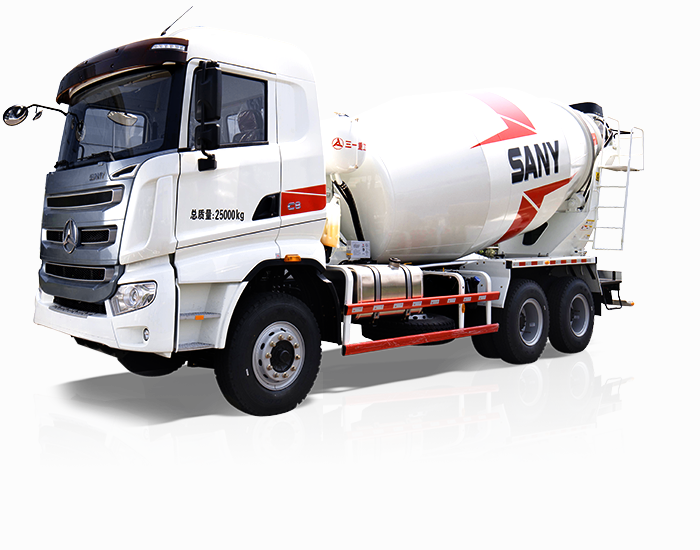 Features
Specialized Cab
Safe and secure
Built for the driver
Convenient ACCESS maintenance
Improved Braking
By making full use of exhaust valve braking technology, braking distance has been reduced by 15% and brake lining wear is decreased by 50%. Sany uses a high volume air compressor, high quality piping, and new sealing technology that shortens air build up time and brake response time.
Energy-saving Technology
The engine dual power mode, coupled with the unique intelligent transmission's power matching technology makes a 10% fuel savings.
Low Deck Technology
The frame is made of high-strength special steel plates, improving reliability and safety. It uses Sany's original subframe-free structure combined with the hollow front and back-end structure design, reducing the center of gravity by 100mm and making the vehicle lighter.
Leading Edges Steering Technology
The large displacement power steering pump reduces operator effort by 40%. Optimizing chassis geometry and front axle steering angle reduces the minimum turning radius by 15%.
Anti-buildup Technology
The three section blade provides an efficient discharge angle.
The flushing device, an innovative front taper and ball-crown connecting structure are installed at the rear taper, in order to clear stagnant aggregate from the dead space, and to prevent aggregate from piling up at front and rear tapers. Due to this, the residual rate at the discharge port declines to 0.4%.
Smart Operating Technology
Each truck is equipped with a GPS system, which boasts five functions including vehicle monitoring, record/playback, alarm reporting, fleet management, statistics and analysis. With this information you can keep abreast of the mixer truck's location, maintenance items, discharge, etc.
Maintenance Tips
Dashboard mounted monitor provides maintenance alarms for the truck's key components such as engine, axle, and transmission in order to facilitate maintenance scheduling.